World of Warcraft: Dragonflight - The Loop
Play Sound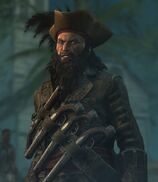 Edward Thatch (1680-22 November 1718), also called Edward Teach or Blackbeard, was a famous pirate during the Golden Age of Piracy. During his two-year career from 1716 to 1718, Thatch captained Queen Anne's Revenge, which embarked on pirating operations in both the Caribbean and along the Atlantic coast of the United States. Thatch was killed in a fight with Royal Marines off North Carolina in 1718.
Biography
Thatch was from Bristol, England, and he joined Benjamin Hornigold's pirate crew in 1715. The two of them became governors of the independent Republic of Pirates on Nassau in 1715, but Governor Woodes Rogers recaptured the islands in 1718 and drove the pirates into the sea.
Thatch would proceed to raid the United States' East Coast, attacking towns such as Middletown in New Jersey and Charlestown in South Carolina. Thatch became a feared pirate due to his habit of placing burning fuses on his hairs, giving him a demonic appearance; however, there is no proof that he actually killed anyone during his pirating career.
Eventually, Governor Alexander Spotswood ordered his elimination. Thatch was tracked down to Ocracoke Inlet in North Carolina and was attacked by Woodes Rogers' ship. His ship "Queen Anne's Revenge" was captured, and he was beheaded in the ensuing battle with the Royal Marines. The feared Blackbeard was finally put to an end, but his legend survived.
Gallery