World of Warcraft: Dragonflight - The Loop
Play Sound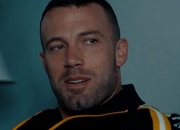 Doug MacRay (1972-) was a bank robber from Boston, Massachusetts.
Biography
Douglas MacRay was born in the Charlestown neighborhood of Boston, Massachusetts, the son of Stephen and Doris MacRay. His father was a criminal, while his mother became a drug addict because of Irish Mob boss Fergus Colm's sale of drugs to her; she hanged herself when Doug was six. Doug befriended Jem Coughlin as a child, and he went out with Jem's sister Krista for a long time. Jem saved his life by killing a kid named Brendan, who wanted to kill MacRay with a Glock 21 handgun, and Jem served nine years in prison.
In 2007, Doug MacRay began his criminal career with an armored car robbery; at the same time, Stephen MacRay was sentenced to 400 years in prison for a New Hampshire armored car robbery and the shootings of two guards. Doug MacRay was employed by Fergus Colm, unaware of Colm's role in his mother's death, and MacRay, Coughlin, Desmond Elden, and Albert MacGloan formed a heist crew. They carried out the 2010 Cambridge Merit Bank heist, as well as five armored car jobs and three other bank jobs; MacRay had a romance with the Merit Bank's manager, Claire Keesey, until she found out his role in the robbery. After their seventh armored car job, the robbers were arrested, and they returned home after refusing to answer the police's questions. MacRay and his crew decided upon one last heist, the 2010 Fenway Park heist. The FBI killed all of the crew members except for MacRay, who proceeded to execute Colm and his bodyguard in order to avenge his mother and safeguard his escape. He then buried the stolen money in Keesey's yard before retiring to the bayous of Florida with some saved money.