GTA: The Criminal Enterprises - The Loop
Play Sound
Conrado Higuera "Don" Sol (born 1959) was a Mexican lawyer and Institutional Revolutionary Party and National Action Party politician. He served as party secretary during the 1980s before becoming a member of the Mexican Congress from Mazatlan in 2000 to 2006, Secretary of Public Security from 2007 to 2011, and Secretary of State from 2012. Higuera Sol had dealings with crime bosses such as Joaquin Guzman Loera, Miguel Angel Felix Gallardo, and Amado Carrillo Fuentes, using his connections to crime to further his own ambitions of becoming President. He would also use these connections to serve as the nexus between the government and the cartels, doing the "dirty work" for several Mexican presidents by managing the drug cartels as they squabbled.
Biography
Conrado Higuera Sol worked as a lawyer before finding employment under the Institutional Revolutionary Party at the age of 26, and his career was on the rise due to his wise advice. In 1985, he advised PRI leader Adolfo Lugo Verduzco to strike back against the corrupt governor of Jalisco by tying him to the Guadalajara Cartel, a move that would force the governor to get back in line behind the PRI leadership. Higuera also found employment as an assistant to General Eugenio Blanco, and he worked with Blanco as he attempted to control the balance of power among the cartels. Sol decided to work with the drug cartels in order to gain enough influence to one day becom President; Sinaloa Cartel leader Joaquin Guzman Loera was both an ally and his worst enemy. In the end, he managed to secure Guzman Loera's arrest after naming him the most dangerous drug lord in Mexico, and he killed Blanco in self-defense after discovering his role in several rapes. In 2000, the new President, Vicente Fox, dismissed Higuera Sol as the man in charge of the anti-narcotics operations, but Higuera Sol charmed his wife Marta Sahagun into putting in a kind word for him. He correctly informed Fox that Ramon Arellano Felix had been killed before Fox even discovered from the police, earning Fox's trust.
Rise in the ranks
In 2002, Higuera was promoted to Operational Director of the Federal Police by President Fox, who was convinced to bring him back into law enforcement by his wife, Marta Sahagun. Higuera was appointed director just before the raid to capture Benjamin Arellano Felix was carried out, and he oversaw the operation's implementation on 9 March 2002. Arellano Felix's capture by the police without a gunshot made international news, as the Arellano Felix brothers were now eliminated. Now, he focused on taking down the newest opponent of the Sinaloa Cartel, the Gulf Cartel. Higuera Sol gained the favor of President Felipe Calderon by assisting him in sabotaging PRD candidate Andres Manuel Lopez Obrador's presidential campaign in 2004-2006, and Calderon rewarded him by making him Secretary of Public Security. In this post, Higuera Sol was able to be the go-between for El Chapo and the government; El Chapo's men received government weapons in exchange for fighting an increasingly costly war against the Gulf Cartel. The war would become unpopular among civilians due to a massive increase in homicide rates, including among innocent people.
Return to the PRI
In 2011, Sol decided to covertly communicate with PRI head and former president Carlos Salinas de Gortari and help the PRI win the presidential election, seeing the election of PRI presidential candidate Enrique Pena Nieto as a means to increase his own power. He leaked the PAN party's plan to emphasize the corruption of Pena Nieto's uncle, allowing for Pena Nieto to rebut the accusations by arguing that the deputies who voted in favor of his uncle's bills, and not he (who allowed the deputies to make their own choices), should be held responsible, and that he was not his uncle. Pena Nieto, out of gratitude, promised Higuera Sol a cabinet position. Meanwhile, Sol continued to serve as a go-between for the Mexican government and the Sinaloa Cartel, pressuring El Chapo to end his plans to expand into Malaysia in exchange for less government pressure on his business. When El Chapo refused, the government arrested Vicente Zambada Niebla, Ismael Zambada Garcia's son. Sol later met with El Chapo and told him of his dealings with the PRI leadership, informing him that it was in both the PRI and El Chapo's best interests that the PAN-led government and its US allies did not capture him. El Chapo promised to keep away the Federales and the Army, but he warned El Chapo that the Mexican Navy would still go after him due to their collaboration with the DEA. At the same time, Carlos Salinas de Gortari groomed Higuera to marry his niece Claudia Ruiz Massieu to form a political alliance. Higuera, who was a closeted homosexual, was hesitant, but he bore his political ambitions in mind.
Corruption investigation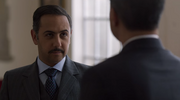 These ambitions were challenged at a press conference held following a raid on the Sinaloa Cartel, where El Popular journalist Omar Pardo repeatedly harassed him about his failure to capture El Chapo, and about rumors that Higuera had ties to El Chapo. Higuera stormed out of the conference after denying the allegations, and, while he had Pardo barred from further press conferences, Pardo published several articles popularizing the allegations. This led to Governor of Hidalgo Felix Olivares convincing Pena Nieto to set up a Senate investigation of Higuera Sol's possible corruption in order to keep his presidential campaign clean. Former policeman Victor Ramirez - who had lost a leg fighting alongside the Sinaloa Cartel - intended to testify, but Ruiz Massieu convinced him to tell the commission that he had lied when he was interviewed by the press back in 2005, as she promised him a prosthetic leg and a pension (which the commission never offered him) in exchange for his silence. As a result, Higuera Sol was found innocent by the commission, and he told the press that he applauded the commission for keeping Mexican democracy safe; however, he demanded a retraction from Omar Pardo. Shortly after, Higuera Sol, Salinas de Gortari, and Ruiz Massieu met with Pena Nieto, and Higuera Sol showed Pena Nieto proof that Olivares' law degree had been faked, claiming that Olivares had set up the commission to divert attention from his own corruption. Impressed, Pena Nieto offered to make Higuera Sol his Secretary of State, which Higuera Sol accepted.
2012 election
Higuera Sol then resigned as Secretary of Public Safety, informing President Calderon that he had been appointed the head of Pena Nieto's election campaign. As it became clear that Pena Nieto was not doing as well as the polls suggested, Higuera Sol went back to his former boss Calderon and invited him to support Pena Nieto in exchange for immunity during Pena Nieto's presidency, as the PRD candidate Andres Manuel Lopez Obrador had proposed a political trial for Calderon on account of the many victims of the Drug War. Apart from Calderon rescinding his support for his candidate Josefina Vazquez Mota, Higuera Sol also wanted Calderon to block the Special Prosecutor's Office for Electoral Offenses from investigating any allegations of vote buying, and he also had him remove the budget restrictions for the rest of the campaign, ensure that all his party headquarters in the country would actively support Pena Nieto, and ensure that only the Navy would pursue El Chapo. At the same time, he and Ruiz Massieu gave away gift cards to union members who could present photographic proof that they voted for Pena Nieto, while El Chapo tripled the PRI vote in the "Golden Triangle" region. After Pena Nieto's victory, Higuera Sol was appointed Secretary of State despite the DEA's objections, and Higuera Sol ensured that the Navy would not attempt to capture El Chapo.
Secretary of State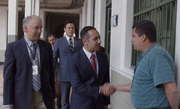 Higuera Sol and Ruiz Massieu rose in the ranks of Mexican politics, with Higuera Sol being confirmed as Secretary of State and Ruiz Massieu becoming a senator. While taking a tour of Raul Escalante's anti-drug NGO facility and meeting the counselors, he ran into the counselor Sebastian Lopez Nayal, whom he recognized as "Franco", the male prostitute with whom he had once had a longtime clandestine relationship. Later, after a tape of Sinaloa governor Mario Lopez Valdez's murdered bodyguard was discovered, containing accusations about his governor aiding El Chapo and Ismael Zambada Garcia in effectively taking over the state (and after the bodyguard's death), Higuera Sol decided to cover for Pena Nieto's reputation (Pena Nieto had been a close friend of Lopez Valdez since the election) by organizing a raid on El Chapo's mega-laboratory at Tamazula. 220 pounds of crystal were confiscated, providing the government with a public relations boost, but DEA agent Richard Smith continued to criticize Higuera Sol for his continued failures to capture El Chapo.
Hoping to satiate the DEA once again, Higuera Sol forced El Chapo to allow him to arrest his banker, his drug-pushing lieutenant, and his head of security within the Federales, giving the Mexican government positive publicity. He then ordered an operation to capture El Chapo himself in Mazatlan, but El Chapo escaped through a tunnel. Ultimately, the DEA arrested El Chapo in a raid on Mazatlan on 22 February 2014, aided by the doctor who treated El Chapo's wife Emma Coronel Aispuro. He ensured that the press covered the incident, hoping that it would vindicate the President. However, El Chapo went on to stage a hunger strike with Edgar Valdez Villarreal to protest the poor-quality food that the prisoners were being served, and thousands of Sinaloa residents marched in protest of El Chapo's imprisonment and demanded his release. Rather than face international outcry over his government's alleged human rights abuses, Pena Nieto was pressured by Higuera Sol into giving the prisoners better food to satiate their demands, but Higuera Sol deduced that El Chapo had staged the protest with a greater goal in mind. Ultimately, El Chapo threatened to kill the warden's family if he did not allow him to escape, and the warden ultimately agreed. At the same life, Higuera Sol's personal life was complicated when Ruiz Massieu confronted him about his continued relationship with "Franco", and she warned him not to let the affair become public.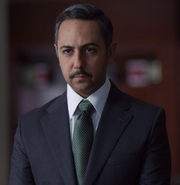 Following the 2014 Iguala mass kidnapping, Higuera Sol advised President Pena Nieto to make a statement on the kidnappings, but Pena Nieto repeatedly rejected his advice, saying that his opponents could use any response against him, and that he wanted to wait until the situation had calmed. He could only stand by with Ruiz Massieu and Salinas de Gortari as Pena Nieto's reputation was destroyed by another scandal, this time involving him granting a contract to a company in exchange for his wife Angelica Rivera being given an expensive home in Lomas de Chapultepec by the same business. After Pena Nieto chose to send his wife to deliver a televised response to the bid-rigging scandal (in which she claimed that she had saved up for the mansion with her own money), Higuera Sol realized that the people would not just see him as useless and corrupt, but a coward as well. Determined to salvage his career, Higuera Sol decided to arrange for El Chapo to tunnel his way out of his maximum-security prison and escape, as Higuera Sol sought to destroy Pena Nieto's reputation and rise to power in his stead. During his meeting with El Chapo in prison, Higuera Sol warned El Chapo that he would become his most relentless pursuer once Pena Nieto fell from power.
El Chapo's escape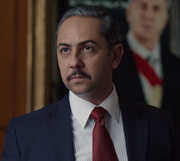 On 11 July 2015, El Chapo escaped from Altiplano, and Higuera Sol feigned a failed recapture attempt to maintain his reputation. He then informed the President of El Chapo's escape as they were on a plane bound for a state visit to Paris, France, and Higuera Sol volunteered to return to Mexico and deal with the situation as the President resumed his visit. He then had the warden delete the footage of El Chapo's escape, and he convinced the President that El Chapo escaped with the warden and the prison staff's help, putting the blame on them. Higuera Sol had 34 staff members and officials arrested, and he then spoke to the press, promising that all of those involved in El Chapo's escape would be served justice, and that he would continue the pursuit of the fugitive drug lord. Salinas de Gortari praised Higuera Sol as "brilliant" and a "hero" for arranging Pena Nieto's demise, but Ruiz Massieu saw his actions as "insane" and threatened to reveal his secret homosexuality if he did not consult her about his secretive actions.
El Chapo later had Higuera Sol kidnapped by his corrupt driver and bodyguard, and he asked Higuera Sol to capture him "dead"; he wished to be declared dead, which would allow for him to escape the country, and for Higuera Sol to be awarded a medal (or even elected President) for killing El Chapo. El Chapo paid a body double to travel across Mexico attracting the law's attention, and the Army gunned him and a bodyguard down at a safehouse in the western Sierra Madre. Higuera Sol showed the photo of "El Chapo"'s body to the DEA, but Richard Smith refused to close the case until he saw the body himself. Higuera Sol arranged for El Chapo's lieutenant Orso Ivan Gastelum Cruz to steal El Chapo's body from the morgue and spill some of El Chapo's real, packaged blood on the tray on which the body was kept, which Higuera Sol passed off as proof. However, Smith knew that the evidence could easily have been planted, and Higuera Sol asked him to join the rest of law enforcement in believing El Chapo dead. Shortly after, he revealed to Ruiz Massieu that he had dug up information on her owning an undeclared property, a scandal which could destroy her reputation as an honest senator; she responded by calling him "gay, cheap, and a chauvinist".
Higuera Sol coordinated several capture attempts against El Chapo, but all of them narrowly failed due to El Chapo's clever escapes or due to police corruption. Eventually, Pena Nieto summoned Higuera Sol to a meeting and told him that, with each passing day, his reputation suffered. He then asked Higuera Sol, as head of the country's security, to submit his resignation papers, lay low for a few months, and later return as Secretary of Tourism. However, Higuera Sol countered by saying that Pena Nieto would be firing him too late, and it would seem like a desperate move; he reminded the President that a delayed reaction was equal to nothing. When Pena Nieto insisted that Higuera Sol sign his name, Higuera Sol refused, and he threatened to claim that El Chapo had financed Pena Nieto's presidential campaign, and that Pena Nieto let him escape in gratitude. Pena Nieto warnned Higuera Sol that this amounted to a declaration of war, but Higuera Sol stated his intent to take Pena Nieto down with him, should he be forced to resign. Later, Salinas de Gortari criticized Higuera Sol for making a second major decision without consulting him, but Salinas de Gortari swore that he would never be disloyal.
El Chapo's recapture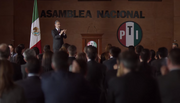 Higuera Sol found another lead on El Chapo's location after the Guamuchil shootout between El Chapo and Fausto Isidro Meza Flores' men, and the Federales went on to seal off the town's exits and find and dismantle several clandestine landing sites. Higuera Sol correctly guessed that El Chapo would likely be hiding in one of Isidro's territories, one of the places that he would be least likely to hide in. Upon receiving news on 8 January 2016 that some spies in Los Mochis heard about an order of 200 tacos for a party, Higuera Sol ordered the start of Operation Black Swan, the operation to capture El Chapo. El Chapo was successfully captured after a carjacking drew attention to him, and Higuera Sol's announcement of El Chapo's capture made worldwide news, earned him a standing ovation from the National Assembly, and won him the praise of several leading politicians, ensuring that he would survive the fall of Pena Nieto.
Future ambitions
Upon meeting with Salinas de Gortari and Ruiz Massieu, however, Higuera Sol's initially warm reception ended when Salinas de Gortari told him that he was angry that Higuera Sol wanted to make a fool of him, and warned him that Ruiz Massieu had already told him of Higuera Sol's homosexuality. Ruiz Massieu then announced that she would be running for President, and that she would use Higuera Sol's newfound credibility to back her campaign; Salinas de Gortari warned Higuera Sol that any mention of Ruiz Massieu's Miami apartment would lead to all of Mexico finding out that Higuera Sol was a homosexual. Higuera Sol's ambition drove him to a dark place, and he proceeded to drive to Franco's apartment and shoot him twice in the chest with a silenced pistol after warning him that it was the only way to restore his career. This restored Salinas de Gortari's trust in Higuera Sol, who was chosen as the party's presidential nominee for 2018.