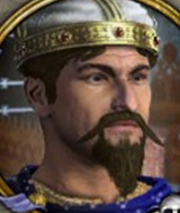 Conrad of Montferrat (1152-28 April 1192) was King of Jerusalem from 1190 to 1192, succeeding Guy de Lusignan and preceding Isabella I of Jerusalem.
Biography
Early campaigns
Conrad was born in 1152, the son of William V of Montferrat and Judith of Babenberg; he was a cousin of Holy Roman Emperor Frederick Barbarossa, Louis VII of France, and Leopold V of Austria. Conrad was known to be a man of great personal courage and intelligence, and Conrad took part in the fight against the rival Lombard League in northern Italy in the 1170s. In 1179, he led an army against Barbarossa's forces under Christian of Mainz, winning the Battle of Camerino in September 1179, and Manuel I of Byzantium rewarded him for his assistance. In 1187, he helped Isaac II of Byzantium in crushing Alexios Branas' uprising, fighting without a shield or helmet and being wounded in the fight against Branas; Branas was beheaded by Conrad's bodyguards.
Third Crusade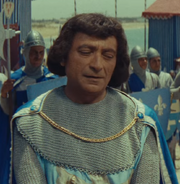 In July 1187, Conrad left for Jerusalem, feeling that he was insufficiently rewarded and fearing that Branas' family would come to take revenge against Conrad for his death. He intended to join his father on the Third Crusade, and he joined the crusaders at Tyre. Conrad had Saladin's banners in the city thrown into ditches, and he had the Tyrians swear allegiance to him. Conrad spread propaganda against the Saracens, including images of a Muslim slapping Jesus in the face and a horse urinating in the Church of the Holy Sepulchre, and he defended Tyre from Saladin's sieges. In 1189, Conrad joined his cousin Guy de Lusignan in the siege of Acre, but Conrad and Guy would become rivals after Queen Sibylla of Jerusalem died. Conrad married Isabella I of Jerusalem, giving him a claim to the throne of Jerusalem, and on 24 November 1190 Conrad became jure uxoris King of Jerusalem when he married Isabella.
King of Jerusalem
Conrad emerged as the new King of Jerusalem in late 1190, but Guy de Lusignan opposed his claim to the throne, with Guy's liege lord King Richard the Lionheart of England siding with Lusignan (the owner of a fief loyal to England in France) in the political struggle. Leopold V of Austria and Philip II of France supported Conrad's claim against Richard, and Philip gave Conrad half of the plunder from the siege of Acre before returning to France. Conrad decided to open negotiations with Saladin as Richard planned to take Tyre for Guy, but there was no agreement with Saladin. On 28 April 1192, Conrad was attacked by two Assassins while returning to his home after eating with Bishop Philip of Beauvais, and he was stabbed twice in the side and back. One assassin was killed and the other captured, but Conrad died of his wounds in a nearby church, depriving Jerusalem of a formidable leader.
Community content is available under
CC-BY-SA
unless otherwise noted.