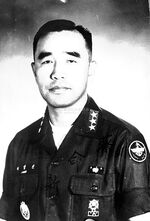 Chae Myung-shin (27 November 1926 – 25 November 2013) was a South Korean general who commanded the ROKA forces deployed to South Vietnam during the Vietnam War.
Biography
Chae Myung-shin was born in Hwanghae, Japanese Korea in 1926, the son of a nationalist activist father and a Christian mother. In 1947, he fled communist North Korea for South Korea, and, instead of becoming a pastor, he joined the ROKA in April 1948. He commanded Skeleton Corps during the Korean War, and he became the authority on the ROKA's guerrilla tactics. During the Vietnam War, he commanded the contingent of the ROKA which was sent to South Vietnam, and his forces engaged in hostage takings and reprisals while blaming the Viet Cong for atrocities. He returned to Korea in 1969 and was appointed ambassador to Sweden in 1972, Greece in 1973, and Brazil in 1977. He retired in 1981 and died in 2013 at the age of 86.
Community content is available under
CC-BY-SA
unless otherwise noted.