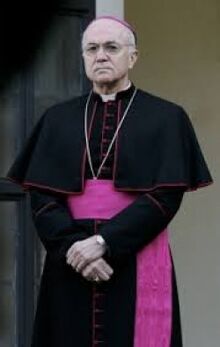 Carlo Maria Viganò (16 January 1941 -) is a Catholic archbishop who served as Secretary-General of the Governorate of Vatican City from 2009 to 2011 and served as Apostolic Nuncio to the United States from 2011 to 2016.
Biography
Early Life
Carlo Maria Vigano was born on January 16, 1941 in Varese, Italy, to a wealthy family. He was ordained a priest on March 24, 1968 and earned a doctorate in canon and civil laws. He entered the diplomatic service of the Vatican in 1973 and worked at the papal diplomatic missions in Iraq and the United Kingdom. He held posts at the Vatican Secretariat of State from 1978 to 1989 and was named Special Envoy and Permanent Observer of the Holy See to the Council of Europe in Strasbourg on April 4, 1989.
Apostolic Nuncio to Nigeria
Vigano was appoined Apostolic Nuncio to Nigeria on April 3, 1992 and was consecrated Archbishop by Pope John Paul II, with Cardinals Angelo Sodano and Franciszek Macharski serving as co-consecrators.
Secretary General of the Vatican City Governatorate
Vigano was appointed Secretary General of the Vatican City Governorate in 2009. During his time as Secretary General, he established centralized accounting procedures and accountability for cost overruns that played a role in turning a $10.5 million deficit into a $44 million surplus by 2010. Vigano wrote letters to Pope Benedict XVI and Cardinal Tarcisio Bertone alleging corruption in Vatican finances and a campaign of defamation against him. The letters were published by Gianluigi Nuzzi, which led to the Vatileaks scandal.
Apostolic Nuncio to the United States
On October 19, 2011, Vigano was appointed the Apostolic Nuncio to the United States, though it was alleged that he was reluctant to take the post and Cardinal Bertone arranged for the appointment for Vigano complaining to Pope Benedict about corruption in the Vatican. When Pope Francis visited the United States in 2015, Vigano arranged a meeting with the Pope and Kentucky clerk Kim Davis. In January 2016, Vigano submitted his resignation letter to Pope Francis after having reached the age of 75. On April 12, 2016, Vigano's resignation was accepted by the Pope
August 2018 letter
On August 25, 2018, Vigano published an 11-page letter about former Cardinal Theodore McCarrick. According to the letter, Pope Benedict XVI imposed sanctions on McCarrick between 2009 and 2010 for sexual abuse. Vigano also claims that he told Pope Francis about McCarrick's abuses but that Francis did nothing about them. He alleged that there is a homosexual current in the Church that wants to subvert Catholic teaching on homosexuality, which includes Cardinal Edwin O'Brien, Cardinal Francesco Coccopalmerio, Archbishop Vincenzo Paglia, Cardinal Renato Martino, and more. He also accused Cardinal Pietro Parolin of being involved in the coverup of McCarrick's abuses and claimed that the appointments of Cardinal Blase Cupich as Archbishop of Chicago, Cardinal Joseph Tobin as Archbishop of Newark, and Bishop Robert McElroy as Bishop of San Diego, were orchestrated by McCarrick, Cardinal Donald Wuerl, and Cardinal Oscar Rodriguez-Maradiaga. In the letter, Vigano made a call for Pope Francis to resign along with anyone who covered up McCarrick's abuses. After publishing the letter, Vigano went into hiding for fear of his life.