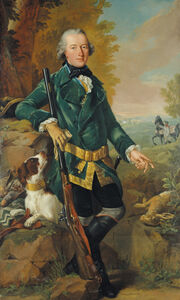 Count Carl Emil Ulrich von Donop (1 January 1732 – 25 October 1777) was a colonel of Hesse-Kassel who fought in the American Revolutionary War. He was killed in the Battle of Red Bank.
Biography
Donop was well-connected in the European courts and was a personal adjutant to the Landgrave of Hesse-Kassel. He fought with distinction in the Seven Years War, rising to the rank of Colonel. When the American Revolutionary War began, he asked to become a commander in the Hessians sent to fight in the war, commanding four grenadier battalions. He fought in the Battle of Long Island and the Battle of Harlem Heights in 1776, as well as the campaign in New Jersey and the Battle of Iron Works Hill. When he was defeated at the Battle of Trenton on 31 December 1776, he sought to redeem himself and fought in the Battle of Red Bank against the Americans. 
Death
Donop commanded 1,200 Hessians, facing 400 Rhode Island Continentals under Christopher Greene. However, the Americans were in plentiful possession of powder, cannon, and grapeshot, and he was mortally wounded by canister shot. 
Community content is available under
CC-BY-SA
unless otherwise noted.