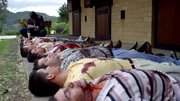 The Cali-Medellin war occurred between 1988 and 1993 when the Cali Cartel of Helmer Herrera and the Medellin Cartel of Pablo Escobar feuded over the rights to drug trafficking in Los Angeles in the United States. The two cartels engaged in a series of assassinations and massacres, including the Monaco bombing of 1988, the assassination of Gustavo Gaviria in 1990, and the Cali soccer field massacre later that year.
Herrera offered a ceasefire in 1992, offering to pay $3,000,000 to settle the Los Angeles dispute, so Medellin Cartel acting leaders Fernando Galeano and Gerardo Moncada were sent to negotiate with him. They told him that they would be fine with $10,000,000, although Escobar wanted at least $12,000,000; when they returned to Escobar, he told them that he would accept no less than $30,000,000 if Cali wanted peace. Escobar later had Galeano and Moncada executed for stealing from him, and Moncada's widow Judy Moncada approached Cali bosses Gilberto Rodriguez Orejuela and Miguel Rodriguez Orejuela for help. Herrera and the Rodriguez brothers decided to help her, Don Berna, and the AUC leaders in forming "Los Pepes", a vigilante death squad which targeted Escobar's drug labs and sicarios.
Los Pepes was known for its "Colombian folk art", making gruesome displays of dead sicarios and those known to be in league with Escobar. The Rodriguez brothers and Herrera were initially opposed to Los Pepes' violent methods, but Escobar believed them to be responsible for the attacks on his men. He had the wedding of Gilberto Rodriguez's daughter bombed in revenge for their alleged roles in the deaths of his men, so an enraged Gilberto ordered his men to kill everyone who was associated with Escobar. From December 1992 to December 1993, Los Pepes went to all-out war with the Medellin Cartel without the Colombian government interfering, leading to accusations that Los Pepes was a government-sanctioned death squad. After Escobar lost popularity following the 1993 Bogota shopping center bombing, Herrera was sent to Miami, where he cut a deal with Escobar's former contact "El Leon" and took over Miami for the Cali Cartel. This silent coup cut off Escobar's Colombian operations from those in America, and the Cali Cartel won a great victory.