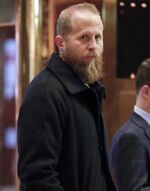 Brad Parscale
(3 January 1976-) was an
American
digital media and political strategist who served as the digital media director for
Republican Party
presidential candidate
Donald Trump
's campaign in 2016. He relied on Facebook's cutting-edge targeting tools to penetrate the rural vote, and he was credited with being the secret mastermind behind Trump's victory.
Biography
Brad Parscale was born in Topeka, Kansas, United States on 3 January 1976, the son of two business owners. He attended the University of Texas at San Antonio and Trinity University, earning a business degree in 1999. He developed CGI software in California for five years, and he worked with online marketing firms. In 2011, he began to work for the Trump Organization, and he began working on Donald Trump's 2016 presidential campaign from his home in San Antonio, Texas. Eventually, he became the boss of several other digital media activists for the Republican Party, cranking out 100,000 different automated ads every day on Facebook; some were similar to each other, but with different color designs and text. He hired the "psychographics"-using company Cambridge Analytica to send messages to users based on their personalities, and the company claimed that it was key to the victory; Parscale would later claim that he did not use psychographics, as he said that he thought that it didn't work. Pascale's original title was Digital Director, but he oversaw data collection, polling, digital fundraising, and other efforts as the campaign progressed; he brought in a record $240,000,000 in small donations. In 2020, he served as Trump's campaign manager, but he was replaced by Bill Stepien on 15 July 2020 after he was blamed for the poorly-attended rally in Tulsa, Oklahoma in June.
Community content is available under
CC-BY-SA
unless otherwise noted.