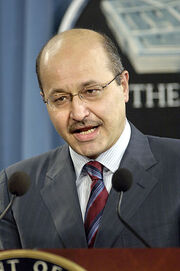 Barham Salih
(born 1960) was Deputy Prime Minister of
Iraq
from 2004 to 2009 and Prime Minister of
Iraqi Kurdistan
from 2009 to 2012 (under
Massoud Barzani
). In 2014 he ran for President of Iraq but lost, with his 17 votes against 21 votes for
Fuad Masum
.
Biography
Salih was born in Sulaymaniyah in Iraqi Kurdistan and joined the Patriotic Union of Kurdistan (PUK) movement in late 1976 and later the PUK resistance in 1979, when he was arrested by the Iraqi Army. He was tortured in prison, and when he was released he continued his high schooling, with a 96.5% grade. After continuous persecution, he left for the United Kingdom to flee Iraq. He graduated for civil engineering from the University of Cardiff in 1983 and the University of Liverpool in 1987, and after the Gulf War of 1990-91 he was made head of the PUK office in the United States.
After the overthrow of Saddam Hussein's dictatorship in Iraq in 2003 he became involved in politics again, first serving as interim Deputy Prime Minister and then official Deputy Prime Minister from 2004 to 2009, when he became Prime Minister of Iraqi Kurdistan under Massoud Barzani. He served until 2012, and in 2014 he ran for president in the Shi'a and Kurdish-ruled government of Iraq, but lost 17-24 votes against Fuad Masum, a fellow Kurd.
Community content is available under
CC-BY-SA
unless otherwise noted.