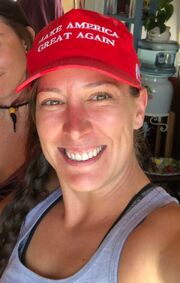 Ashli Elizabeth Babbitt (1985-6 January 2021) was an American far-right activist and Trump supporter who was shot dead in the US Capitol building during the 2021 United States coup d'etat attempt.
Biography
Ashli Elizabeth McEntee was born in 1985, and she served in the US Air Force for fourteen years before becoming a small business owner in San Diego, California. She was a fanatical Trump supporter and QAnon believer, calling Vice President Mike Pence a traitor and calling on him and US Supreme Court Chief Justice John Roberts to resign. On 6 January 2021, she tweeted, "the storm is here," referencing the QAnon conspiracy theory, and she then took part in the storming of the US Capitol in Washington DC amid the 2021 United States coup d'etat attempt. She, according to fellow insurrectionist Thomas Barani, refused to back off from a protected corridor of the Capitol building (even as other rioters pulled back), leading to her being shot in the neck. She died of her wounds shortly after, the first reported death of the coup attempt.
Community content is available under
CC-BY-SA
unless otherwise noted.