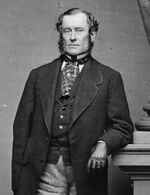 Anthony Kennedy
 (21 December 1810 – 31 July 1892) was a
US Senator
(
KN
) from
Maryland
from 4 March 1857 to 3 March 1863, succeeding
Thomas Pratt
and preceding
Reverdy Johnson
.
Biography
Anthony Kennedy was born in Baltimore, Maryland in 1810, and he was sent to Charlestown, West Virginia in 1821. He served in the Virginia House of Delegates from 1839 to 1843 and as a magistrate on the Jefferson County Court for ten years, and he served as a member of the Maryland House of Delegates in 1856. From 1857 to 1863, he served in the US Senate as a member of the Know Nothings, and he died in 1892.
Community content is available under
CC-BY-SA
unless otherwise noted.