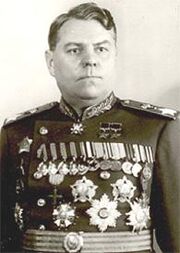 Aleksandr Mikhailovich Vasilevsky (30 September 1895-5 December 1977) was a Marshal of the Soviet Union who commanded the 3rd Belorussian Front during World War II. From 24 March 1949 to 15 March 1953 he served as Minister of War, both succeeding and preceding Nikolai Bulganin.
Biography
Aleksandr Mikhailovich Vasilevsky was born on 30 September 1895 in Novaya Golchikha, Vichuga, Russian Empire (in present-day Ivanovo Oblast, Russia), the fourth of eight children. Vasilevsky became a battalion commander during World War I, seeing action in the Brusilov Offensive and other major battles. He left the Imperial Russian Army in November 1917 after the Russian Revolution, and he entered the Red Army. His forces never saw battle with the White Army, instead leading a company to put down peasant uprisings. He did, however, fight in the Polish-Soviet War against Poland in present-day Lithuania, and he was appointed to the general staff in October 1937 after the Great Purge opened some spots in the Soviet high command.
When war broke out with Nazi Germany, he was working on the general staff, and he was made Chief of Staff of the Red Army on 26 June 1942. Vasilevsky had been involved in coordinating the defense against Operation Barbarossa, and he became the Stavka leader on the front lines. On 16 February 1943, he was made a Marshal of the Soviet Union, and he coordinated the Voronezh Front and the Steppe Front for the Battle of Kursk. On 10 May 1944 he received a head injury from a mine in Sevastopol, but he recovered to lead Operation Bagration, and he became the leader of the 3rd Belorussian Front in February 1945 after the death of Ivan Chernyakhovsky. He led the front in the invasion of Germany, and he remained a general after the war. From 1949 to 1953 he served as War Minister, and he died in 1977 at the age of 82. He was remembered as a kind and soft general by his comrades.
Community content is available under
CC-BY-SA
unless otherwise noted.