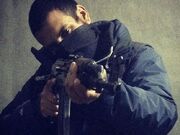 Abu Hussain al-Britani
(1994-26 August 2015), born
Junaid Hussain
, was an
Islamic State
-affiliated computer hacker and fighter. Known as "Trick" from the Teampoison hacking group, he later fought for ISIS and was killed in a
USAF
airstrike in 2015.
Biography
Junaid Hussain was born in Birmingham in the United Kingdom in 1994. He became known as a computer hacker, and in 2012 he was arrested for stealing information from former Prime Minister Tony Blair. He became a fighter in the Islamic State during the Syrian Civil War and funded the IS war chest through cyber attacks on British banks and celebrities - he was one of the three men suspected of being executioner Jihadi John (alongside Abdel-Majed Abdel Bary and Abu Abdullah al-Britani), the man who executed American journalists James Foley, Steven Sotloff, and Peter Kassig and British aid workers David Cawthorne Haines and Alan Henning in 2014. However, it was later revealed that the executioner was the Kuwaiti Mohammed Emwazi.
al-Britani became an ISIS propagandist online, and in 2015, he was involved in the Curtis Culwell Center attack in Garland, Texas, where Nadir Soofi and Elton Simpson were killed while attempting to launch a terrorist attack against people at a "draw Muhammad" convention". As a member of the "Cyber Caliphate", al-Britani defaced French websites during the attacks on Charlie Hebdo and in Hypercacher, the US Central Command, Newsweek, and International Business Times. al-Britani also married fellow British IS fighter Sally Jones, who was killed in a June 2017 drone strike.
Death
Wanted by the Pentagon due to his role in radicalizing Nadir Soofi and Elton Simpson, as well as due to his threatening computer skills, he was targeted during Operation Inherent Resolve. While at a Raqqa petrol station in August 2015, he was killed alongside his two bodyguards in an airstrike following a tip-off.
Community content is available under
CC-BY-SA
unless otherwise noted.